So we are kind of nerds when it comes to Harry Potter.  I was 11 years old when the first book came out, so I literally got to grow with the characters.  I remember when the movie came out (on VHS!), I would watch it over and over and over.  I wonder if my Mom remembers that…..  I've been there for book releases, and movie releases, and I'm pretty sure I saw all the movies in theaters, which is saying something since we didn't do movies in theaters often!  Now, I've got three kids, and we regularly watch the movies, and have Harry Potter movie marathons.  We're currently finishing up one tonight, in honor of Harry's birthday, where we'll be watching both Deathly Hallows.  We've also started to listen to the books on disk, which is awesome because my kids are getting to know the 'real' stories!
For my older two kids' first birthdays, we invited family over for some food (yay summer birthdays!), and in lieu of presents, I would always request gifts of books.  Well, We haven't had a 'big' party in a few years, so I wanted to do a bit more for Andrew's birthday, since we'd be getting together with family to celebrate.  What a better 'theme' to choose than Harry Potter, which was started with the 7 book series!!  Not to mention our nerdiness when it comes to HP….. 🙂
I prepped for months on what the party would look like.  Thanks to Pinterest, I had a great handful of ideas.  Little by little, I knocked out tasks.  I posted sneak peeks on Instagram, because I was SO excited for the party 🙂  Our setting was the "Great Hall" in my Dad's backyard.
First up were the invitations.  I haven't sent non-electronic invites in FOR-EV-ER, but felt the need to do so for this party.  I found the layout online, printed them out, dipped them in coffee, hung them to dry, then addressed them and sent them via owl post!  Well, I guess not that last part, but if I could have I would!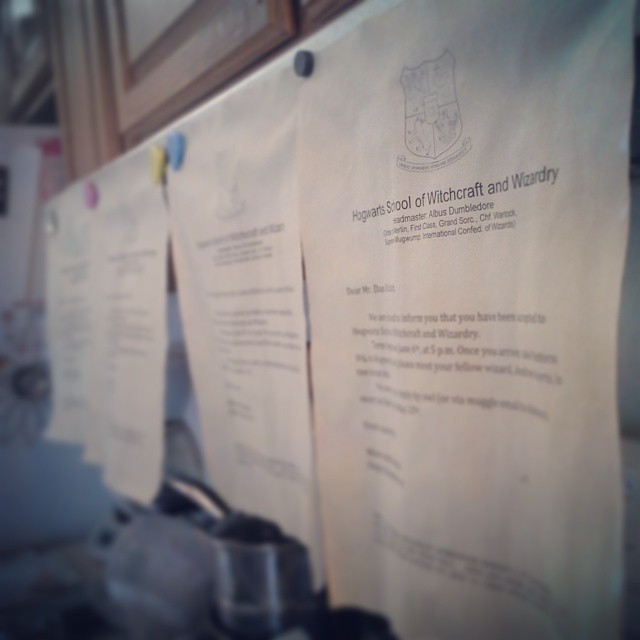 My second project was making the house ties.  I used felt and glued the coordinating colors in random patterns on to the ties.  I brought along sticky pins, which didn't end up working that well.  Guests were to take the sorting hat quiz, and upon checking them, I would announce their name and house, just like the sorting hat does in the movie.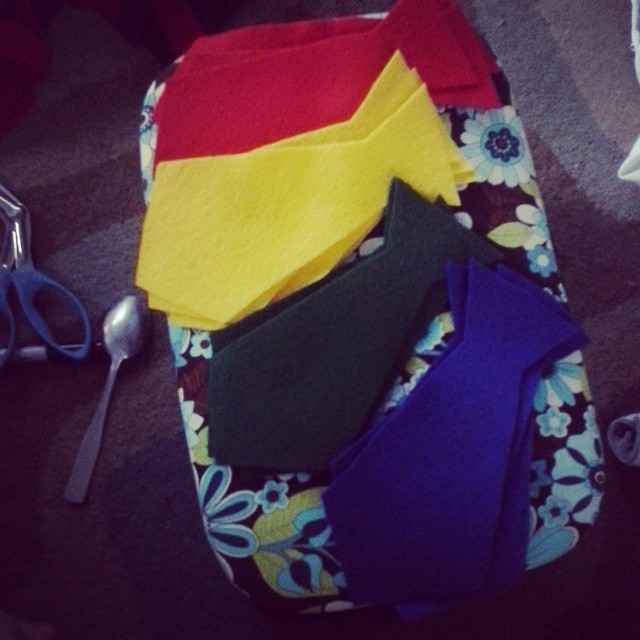 Next project to tackle was the brick wall which lead the guest through to Platform 9 3/4.  If by some strange chance you haven't seen the movie, young wizards are suppose to "…walk straight at the wall between platforms 9 and 10″ to get to the platform to board the Hogwarts Express train.  For the 'wall', I purchased a plain sheet from a thrift store, drew the brick lines, then had a heck-of-a-time spray painting it red.  In the end it worked out, but I was so bummed during the project.  If I did it again, I would cut it straight down the middle, instead of cutting on the bricks.  Why?  Because when you  hang it up, it hangs all weird!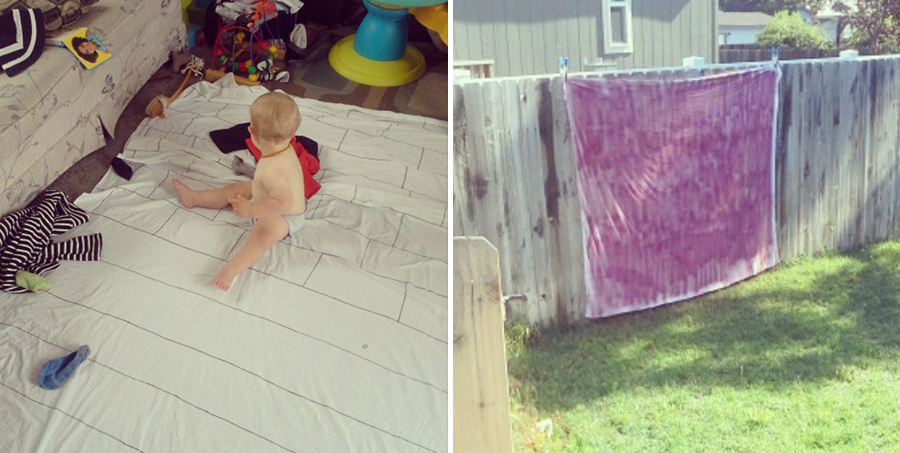 Along with the brick wall, I also made the sign for the platform.  This was also another project where I felt irritated and didn't like the way it was turning out, but in the end, I really like it.  We kept the sign to hang…. somewhere…. it's currently hanging out on my kitchen table, looking for a home 🙂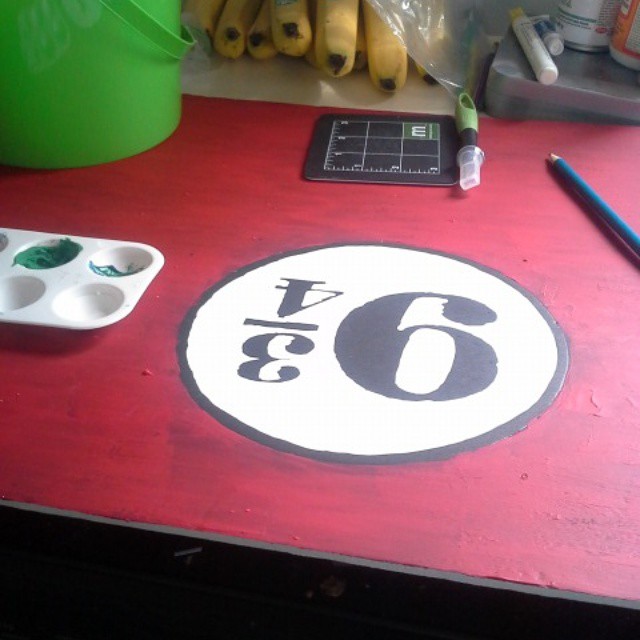 Now, my second favorite project!  Floating candles as seen in the Great Hall.  If I were having a more elaborate party, and perhaps one leading in to the dark of the night, I would do many, many more of these!  For the candles, I used paper towel and toilet paper tubes, cut to different lengths, hot glue around the top to look like melting wax, painted white, strung wire through the top to put battery operated tea light candles and hang from trees.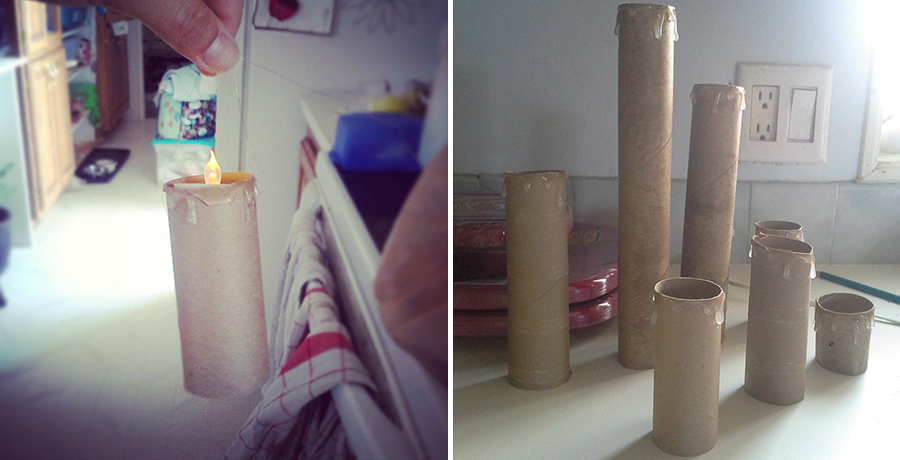 Next project: Pin the scar on Harry!  Easiest project probably.  Get a white board, trace super easy Harry face, color in with Sharpie, cut out lightning bolts, done!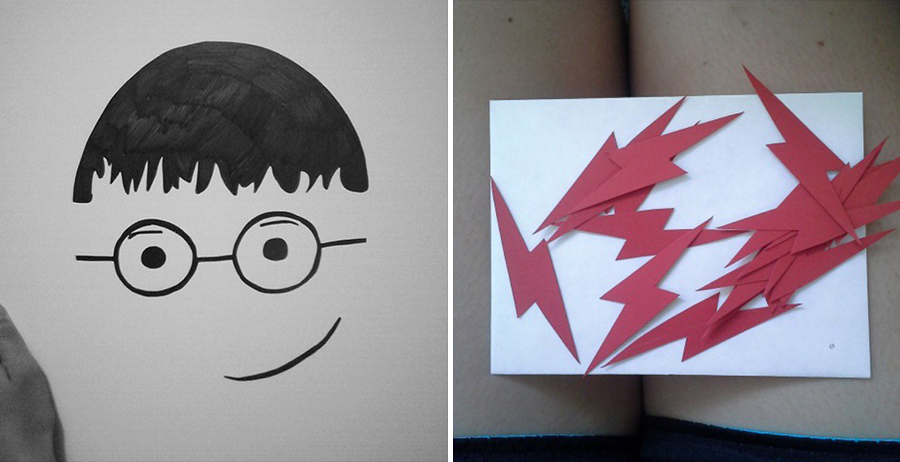 Now, my absolute favorite project!  This we will never get rid of, and it will probably live in our garden.  It's currently hanging out with the Platform 9 3/4 sign on my kitchen table.  Don't ask 😉  Again, super easy, you just need a bit of creativity.  Buy wood, paint black, paint words, hammer together, hammer in ground.  Done!  I browsed Pinterest and looked up text to use for the locations to try to make it look as authentic as I could.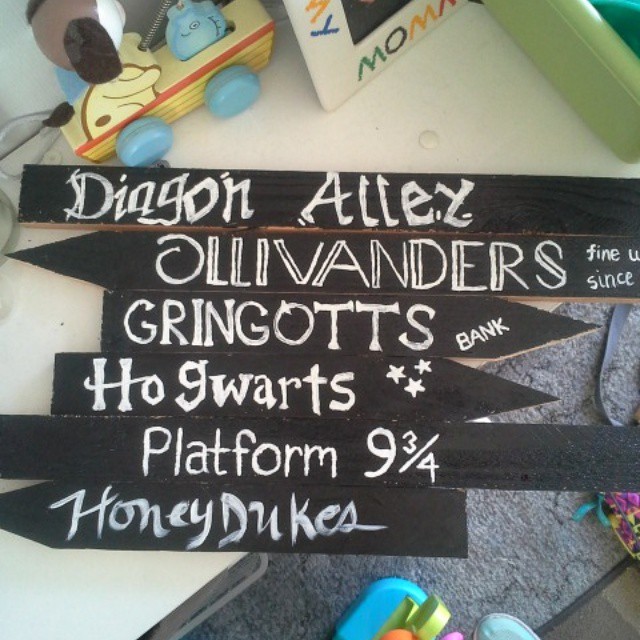 Now at most of our parties nowadays, I have something like a photobooth to take photos of friends and family who attend.  This year, it only made perfect sense for it to be a mugshot, similar to Sirius Black's photo in the Daily Prophet!  For this project, I cut up cardboard in the shape of the outer piece, as well as the board for guests to hold.  I purchased a Prisoner of Azkaban book from the thrift store (randomly perfect) and used the pages to mod podge on to the cardboard pieces.  Instead of copying the symbols that Sirius Black holds, I personalized it for my Son's birthday (duh!).
One last project we had to attempt was making homemade Butterbeer Cupcakes.  I had planned on hiring someone to make Golden Snitch cakepops, but the monies ran out 🙂  We did a trial run making these, and they were delish!!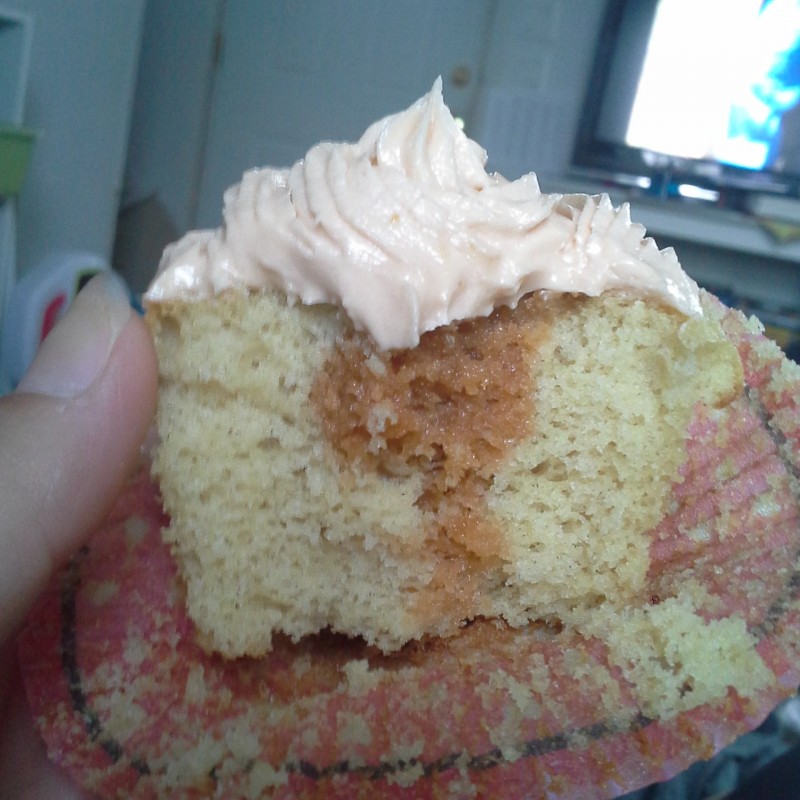 Stay tuned to the next post for photos from the party!