Our Top 3 Young Living Products This Week
Essential Oils, Young Living Essential Oils
Our Top 3 Favorite Young Living Products This Week
Young Living Mineral Sunscreen Lotion
So we aren't big fans of using sunscreen.  Peer pressure is something fierce when it comes to protecting your skin in the sun.  But have you researched what is in the sunscreen you're rubbing on our skin, on our kids' faces?  Not the best ingredients, and then you have to weigh using the chemicals vs sun exposure.  I was so excited when YL announced sunscreen at convention this year.
It is formulated without UV chemical absorbers, parabens, phthalates, petrochemicals, animal-derived ingredients, synthetic preservatives, synthetic fragrances, or synthetic dyes.
Broad-spectrum SPF 10 sunscreen protection
Blocks UVA and UVB rays
Water- and sweat-resistant for 80 minutes
Helps prevent sunburn
Smooths easily onto skin and won't leave a white residue
Formulated for those with sensitive skin
Made with naturally derived plant- and mineral-based ingredients
Dermatologist tested and hypoallergenic\
I was able to throw this in my monthly wellness order last month, so we've been trying to get this on our faces before we head out the door for swimming, as I shared in my Instagram post.  It goes on very thick, and it doesn't take much.  The slight white film is absorbed within seconds.  So so far, it's a big win for my family, keeping in line with our wellness goals.
Young Living KidScents Bath Gel
So…. toilet training toddlers can be super messy.  amiright?  And sometimes, that means extra trips to the shower or bath.  We don't do baths often, but you can only have a toddler cooperate for a shower so many times.  So bring on the bubbles!  We use this for bath gel, but we also use it for cleansing soap for the kids.  At one point, I had three foaming pump bottles, one for each of them with some of the bath gel in it, filled with water, so they wouldn't run through this bottle like crazy.  Now, they get a little drizzle on their poofs and can scrub down, and every once in a blue moon, they can take a bath with some of this Young Living Bath Gel.  (ps, the new branding is ah-dorable!!)
Contains
Natural Ingredients
Therapeutic-grade essential oils
No mineral oils
No synthetic perfumes
No artificial colorings
No toxic ingredients
Wondering why you might want to switch to Young Living's personal care products, download the Think Dirty app and scan the products you're already using, you may be surprised at some of the ingredients and what sort of harm they are causing your family.
Essential Oils: Tea Tree, Helichrysum, & Lavender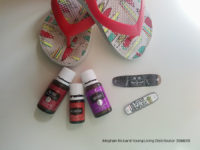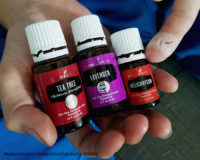 Okay, my boys are trying to make me faint from blood, I swear…..  First up, we've got the toddler.  A post about how he cut his foot on Instagram.  Then, my older Son, figured he could 'play' with the metal lid of a can….. Well, I guess it was a test of this Mom's patience.  neveradullmoment  So I reached for my oils.  Tea Tree to help purify the wound, keeping it clean.  Lavender to calm and sooth the area (and the kid!).  And Helichrysum to promote healthy healing of the skin.  This trio worked great on both wounds!!
So our Top 3 Products were technically more than three, since I included three bottles of oil for our third favorite this week.  But thank you for checking out how we've used Young Living products on our Journey to Wellness.
If you are interested in learning more about Young Living Essential Oils, you can use the 'Book Meghan' tab above to send me an email.  I'm more than happy to share what I've learned.