Monthly Wellness Box : August 2017
Essential Oils, Young Living Essential Oils
Monthly Wellness Box
So our monthly wellness box for August arrived last week! I usually do a live video on my personal Facebook page so I can share with my friends what sort of goodies I get.  If you prefer to watch or listen to videos, you can check it out here:

Why do we get a box from Young Living every month?  Because it's an easy way to get toxic-free products into our home, as well as qualify me for commissions (bonus yay!!).
So let's talk a little bit about the products we got in August: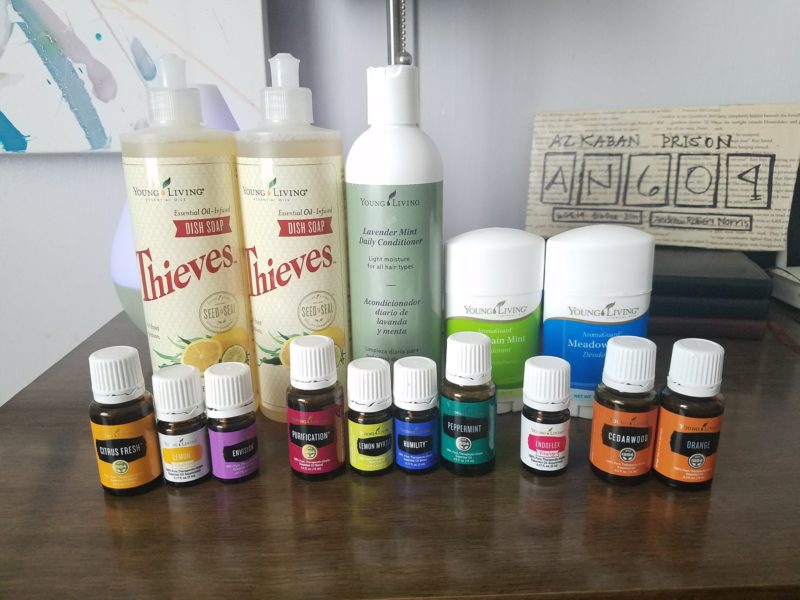 Thieves Dish Soap: Switching out your dish soap to something that is plant based and oil-infused is a no brainer!  When you research some of the chemicals in other brands' dish soaps, you'll see why ( free from SLS (sodium lauryl sulfate), SLES (sodium lauryl ether sulfate), dyes, formaldehyde, phosphates, and synthetic perfumes).  Did You Know? • Methylisothiazolinone is a synthetic preservative causing some scrutiny for allergies, and it is found in many "green" household products, including dish soaps. Thieves Dish Soap has no synthetics; every ingredient is naturally derived.
Lavender Mint Daily Conditioner: Once again, another easy product to swap out after you learn how harmful the chemicals are that we're rubbing our scalp with, and inhaling while we're sudsing up.  This was the first time ordering this for me, I've been trying to swap out a new product every monthly box.  I've used it a handful of times and so far, nothing to dislike!
Deodorant: These were another new thing we switched out!  I was a big fan of deodorant, until I learned that sweat is actually better for you than not sweating, so I stopped buying antipersperant.  Then, after learning more about these toxic chemicals in nearly all of our personal care products, I stopped using what I did have, well, not completely, but I would rarely wear it.  However, sometimes we just don't want to stink.  I think a lot has to do with your body, if it's relatively healthy you don't produce as much stink.  But there are some times when you just don't want to stink.  And, I've got an 11 year old 5th grade Son, who is stinky.  So we got Mountain Mint and Meadow Mist and we're giving them a try!  So far, they go on smooth and I haven't noticed any streaking, and my Son says it gets him through the school day, but could use a reapplication after school if he needed some.
Endoflex: The one oil we picked this month for our family was Endoflex, and we went with the 5ml to try it out.  I've heard it's good at helping balancing out hormones, and I bought this mainly for my oldest Son.  He has a hard time dealing with change and anger, so we mixed this blend up with some other oils for a daily dose of assistance with the oils.  After doing more research on it, I saw it helps maintain healthy metabolism, so Momma may be giving it a try 😉
This month we let a couple friends add to our order.
Cedarwood: Quickly became one of my favorite oils!  We use this for relaxation and we often diffuse it with Lavender when we're getting ready for bed.  Side note, it is known to cause vivid dreams or nightmares, so be aware of that, especially if you're using/diffusing around children.  Nightmares have the opposite effect of the calming we're shooting for.  Cedarwood is also known for it's skin and hair benefits.
Orange: Invigorating, energizing, and clean.  Peaceful, harmonizing, and creativity inspiring. Be sure to check out the usage ideas from Young Living on their blog.  Just a reminder, we have to have separate labels for internal & topical/aromatic, however the quality of the oils are identical.
Peppermint: Peppermint is commonly used in our house.  In fact, it's part of the trio I originally wanted to try using essential oils.  We use Peppermint, Lavender, and Lemon when we're dealing with things blooming outside.  We diffuse them, roll them on topically, and when we feel it's going to get super bad, we'll drop one of each in a small bit of honey for internal use (remember, I only can recommend internal use of Young Living essential oils).
Humility: Young Living's website says: True humility is the foundation of emotional strength. Humility™ is a blend of pure essential oil scents that promotes deeper spiritual awareness.  If you want to learn more about this blend from YL, I can chat one-on-one with you and whip out my handy dandy reference guide!
Lemon Myrtle: This oil smells a lot like Jade Lemon to me.  It's fresh and uplifting.  Great to put in your diffuser in the morning or when you need some help focusing.
Purification: We love to diffuse Purification.  We usually mix it with Lemon, and it is incredibly energizing and will knock out an nasty smells floating around.  It's also a good one to use topically to stay annoyance free outside.  It's also said to be good for healthy skin, but we haven't used it much for that.
WHAT WAS FREE??
Well, if you didn't know, Young Living loves to reward their members.  Every month, they have different free products at certain tiers: 100, 190, 250, & 300.  Want to know more about the free stuff?? I'd love to tell you!
My order was at the 190PV tier, so I earned three freebies!
Envision: This is a new oil for me and I am LOVING it.  I need to get a diffuser right next my desk when I'm sitting down to work.  The blend is lovely: Black Spruce, Geranium, Orange, Lavender, Sage, & Rose. According to YL, the scents that stimulate feelings of creativity and resourcefulness, encouraging renewed faith in the future and the strength necessary to achieve your dreams.  Yes please!
Lemon: Lemon is the most reordered oil for our family.  We use this all the time!  As I mentioned before, it is in our seasonal support trio.  We use it for fresh scents and we often mix it with other oils for diffuser blends.  And we love to use Lemon in baking!  The taste is amazing!
Citrus Fresh: Quickly becoming a favorite to put in our diffuser or in a glass of water.  A handful of citrus oils with Spearmint thrown in there.  Be sure to check out the suggested uses for Citrus Fresh on Young Living's website.
I really wish I could have hit that top tier of freebies, because I could have gotten all of the KidScents oils, I mean seriously!!  But you can earn the freebies simply by ordering!  If you're signed up for Essential Rewards, the first tier is at 100PV.  And there are a couple of other Essential Rewards only freebies offered every month, otherwise, everyone who orders can get the monthly freebies if they hit those tiers.
If you're ready to switch out to some natural, plant based products so you can ditch those nasty toxins, let's chat! If you want to learn how you too can earn freebies, I can tell you the details!  For more information on Young Living and what I'm doing with it, check out my main page, Journey to Wellness.